Whether you're planning on spending the holidays with family or friends, don't arrive to the gathering empty handed. This year, bring a delicious appetizer or side dish rich in folic acid.
The vitamin B-9 is beneficial for both men and women, but is especially important for any woman of child-bearing age.
We gathered three delicious recipes that will be perfect for any holiday get together!
Broccoli-Artichoke Dip with Toasted Whole Wheat Pita Chips
This fat-laden, healthy appetizer takes just 52 minutes to prepare.
3 mini whole wheat pitas (6″ diameter)
1 can (14 ounces) artichoke hearts in water, drained
1/4 cup reduced-calorie mayonnaise
1 small clove garlic, peeled
1 package (10 ounces) frozen chopped broccoli, thawed and drained, excess moisture gently pressed out
1/2 cup part-skim ricotta cheese
1/4 cup shredded parmesan cheese
For the chips: Preheat the oven to 350°F. Cut each pita in half, cutting around the edge, making 2 rounds. Stack the rounds and cut into 8 wedges. Arrange the wedges rough side up in single layers on 2 baking sheets. Bake until the wedges are crisp and golden brown, about 10 minutes, reversing the position of the sheets halfway through baking. Let cool on the sheets on wire racks. Leave the oven on.
For the dip: In a food processor, combine the artichokes, mayonnaise, and garlic. Process until smooth. Add the broccoli and ricotta and pulse to form a chunky dip; do not puree. Scrape the mixture into a 9″ glass pie plate. Sprinkle with the Parmesan.
Bake for 25 to 30 minutes, until the dip is heated through and begins to brown at the edges. Let cool for a few minutes before serving with the chips.
(Recipe courtesy: https://www.runnersworld.com/recipes/broccoli-artichoke-dip-with-toasted-whole-wheat-pita-chips)
Parmesan Roasted Brussels Sprouts
This delicious side will match perfectly with whatever protein you serve this holiday season, whether it be chicken, turkey, or ham.
1 ½ pounds fresh Brussels sprouts, trimmed and halved
2 tbsp olive oil
¼ cup breadcrumbs
½ cup shredded parmesan cheese
1 tsp garlic powder
1/2 tsp salt
¼ tsp black pepper
Preheat over to 425°F. Lightly grease a baking sheet with non-sticky spray and set aside.
Combine Brussels sprouts and olive oil in a large zip close bag and shake to coat. Add the breadcrumbs, parmesan cheese, garlic powder, and salt and pepper to the bag, then shake to coat.
Spread in an even layer on the baking sheet and bake for 15 to 17 minutes until the cheese is melted and the Brussels sprouts are lightly browned.
(Recipe courtesy: https://www.iwashyoudry.com/parmesan-roasted-brussel-sprouts/)
Asparagus, Ham and Mascarpone Tarts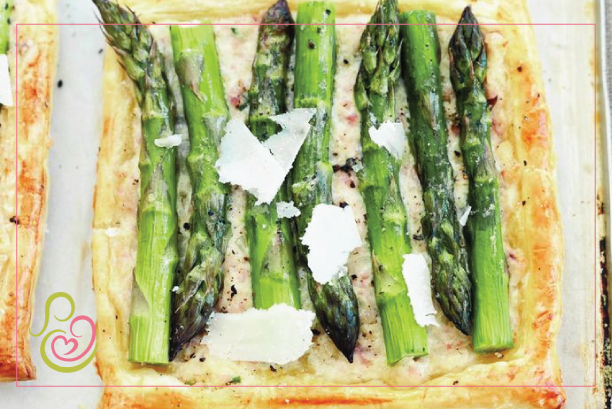 This is a great dish to bring for the holiday meal or to create with leftovers.
2 frozen puff pastry sheets, thawed
30g unsalted butter
2 teaspoons olive oil, plus extra to drizzle
1 onion, finely chopped
150g sliced ham
2 tsp Dijon mustard
250g marscapone cheese
2 bunches asparagus, trimmed, halved
1 egg, lightly beaten
¼ cup shave parmesan
Preheat the oven to 180°C and line 2 trays with baking paper. Cut each pastry sheet into 4 squares, then lightly score a 2.5cm border around the edges of each square with a knife, without cutting all the way through. Place the squares on the trays and chill while you prepare the filling.
Melt butter with oil in a frypan over medium heat and cook onion for 2-3 minutes, stirring, until softened but not coloured. Cool slightly. Finely chop ham in a food processor. Add onion, mustard and mascarpone, then pulse to just combine. Season to taste with salt and pepper.
Spread mixture within the border of each pastry square, then top with asparagus pieces, alternating tips and ends. Drizzle with oil and season with salt and pepper. Brush pastry borders with egg, then bake tarts for 20-25 minutes until pastry is golden and asparagus is tender. Top with parmesan and serve with a rocket salad if desired.
(Recipe Courtesy: http://www.delicious.com.au/recipes/asparagus-ham-mascarpone-tarts/8e350989-53a0-4600-9a96-5c2992fa9e45?current_section=recipes)